This post (probably) contains affiliate links, including Amazon Associates links, and I may receive a small commission if you make a purchase after clicking through one. This is at no extra cost to you and allows the site to keep running! Thanks for understanding.
I spent my 30th birthday in the Maldives at the adults only resort, Robinson Club Maldives. I had the most incredible experience, so maybe I'm a bit biased, but I honestly think it is the best place to stay in the Maldives.
A true tropical island paradise with a secluded, intimate feel and an incredible house reef. So, what did I get up to? What did I see? What are the rooms like? Is the food any good? Allow me to answer all your burning questions.
Celebrating in the Maldives
Getting to Robinson Club Maldives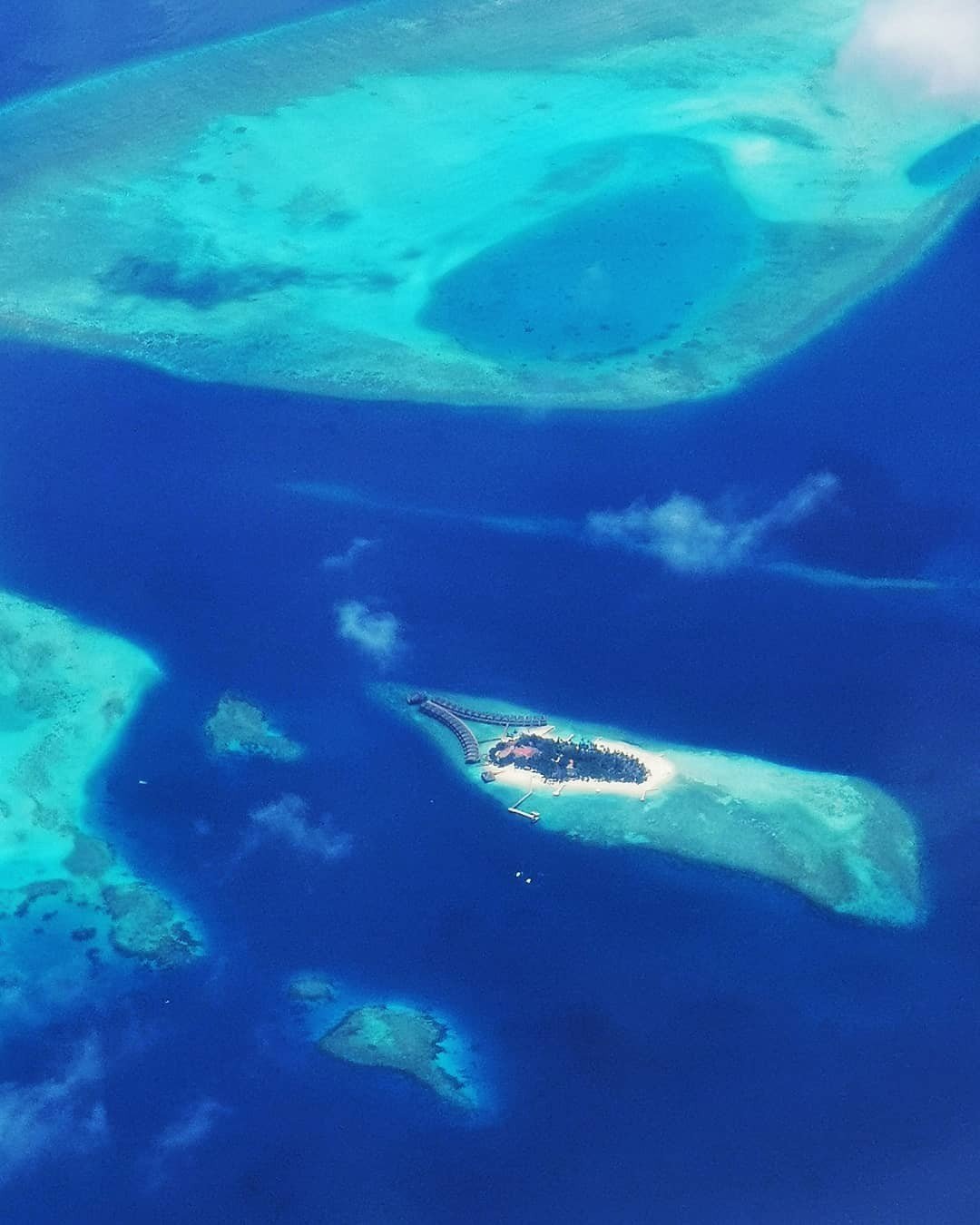 No matter where you're coming from you'll land in the main airport in Male, the capital of the Maldives. From there you'll either need to take a boat, plane or seaplane to your final destination.
There are over 20 atolls in the Maldives with more than 1200 islands, so not all of them will be close to Male airport. ROBINSON Club Maldives is in the Gaafu Alifu Atoll which is quite far from the main airport in Male. So for Ali (my bf) and I to get to ROBINSON we had to take a flight to Kadhedhoo airport and then get a boat to our resort.
When we arrived in Male we were greeted by a ROBINSON representative. We then had our bags tagged and were taken to the domestic Maldivian airline terminal.
Here our ROBINSON representative took our passports, checked us in and then whisked us away to a private air-conditioned lounge. There were complimentary drinks and snacks available while we waited for our flight.  Once we boarded our propeller plane (pretty big as far as propeller planes go) the flight time was 70 mins. 
You might want to bring ear plugs though because it can be noisy on the plane. Try get a window seat because you'll have an incredible view. The Maldives is one of those places that looks SO much better in real life than it does in the photos, so don't be tempted to take a nap on the plane.
After landing in Kadhedhoo airport a ROBINSON rep collected us, loaded our bags up and brought us to our boat. From there it was a 30ish minute journey to the resort through perfect aquamarine waters. They even gave us bottles of water for the journey.
Despite it being a relatively long journey to get from Male airport to ROBINSON Club Maldives, it was so perfectly organised that it never once felt stressful or tiring.
About ROBINSON Club Maldives
ROBINSON is a German resort chain which has clubs in beautiful locations around the world. They have two clubs in the Maldives. I chose to visit ROBINSON Club Maldives, their adults only option, because I wanted to relax and unwind in an intimate setting. If you have a family, of course, their other resort, Club Noonu is perfect.
ROBINSON Club Maldives is a high end premium resort. So it's not over the top, $10,000/night, luxury, but quality is still extremely high and it doesn't feel stuffy. It's a small island and the resort feels intimate. At times you feel like you have the entire island to yourself. But at the same time you can join activities, meet people and mingle if you want to. 
When we arrived we were greeted by Seth, the resort manager, and his team of staff. We were given a small traditional palm leaf necklace and a drink. Sabine was our representative and showed us around the island while we waited for our luggage to be placed in our room.
One of the funny things about the island is that they literally have their own island time, an hour ahead of the regular Maldives times. They do this to make sure sunset is at a more reasonable time (around 7pm ISH) . You get used to it pretty quick.
Everything in the resort runs like clockwork. The staff take care of you perfectly and it is borderline impossible to get stressed on this island. Basically this resort is the perfect place for a couples holiday, honeymoon or a grown up family getaway. I saw several couples having their wedding photos taken on the beach, in fact.
Our Beach Bungalow
We had beach bungalow 1217, right at the end of the beach near the Sundowner sunset bar. The beach bungalow is the perfect mix of island vibes and modern design. The bathroom is half outdoor with covered areas. It looks like something out of a tropical photo shoot.
There's an outdoor shower AND an indoor shower, which we never used because the outdoor shower was so lovely. There was also a huge bath hub with hydro jets that we never even got around to using. Small lizards and geckos lounged around on the tiles to warm themselves up during the day.
TIP  – Bring your own conditioner because they only provide a shampoo/conditioner combo which is never OK for anyone with hair longer than their jawline. Also if you're out in the salt water you NEED proper conditioner. I read this on TripAdvisor before I arrived so luckily had brought a bottle with me.
The room itself is a stunning high ceilinged, wooden/tiki style room decorated with beautiful bright colours. There's air conditioning and a ceiling fan. Every day two bottles of water are left in the room.
There was a lovely "Welcome to Robinson" greeting written in flowers across the bed when we arrived. The bed itself is HUGE. I never wanted to leave it. There's a coffee machine, a kettle and a fridge too.
From the main bedroom/living area there are double glass doors opening out to a private deck with chairs, a table and a rack for wet gear and snorkeling equipment.
Each beach bungalow has its own private sun loungers and umbrella right on the beach. The sea is just a metre or two from the bungalow (as you can see in the photo above). It is PARADISE.
Things to do
People often think of the Maldives as a boring island destination, but there are tonnes of things to do in the Maldives and plenty to do on the ROBINSON island in particular. We were obsessed with the house reef. Snorkel equipment is included as part of all inclusive package. We ended up snorkeling twice a day, every day. SO GOOD.
The house reef in only a stone's throw from shore and teaming with life. You can snorkel around the entire island in about 1hr 30mins. Originally we did NOT plan on doing this, but it ended up just happening because there was so much to see.
It gets a bit rough between the rows of water bungalows because it's a bit further out from the island. I would recommend staying away from that area if you're not a strong swimmer, just stick to the reef that's close to the beach.
While snorkeling we saw a nurse shark, LOTS of black tip reef sharks, eels, an octopus, SO MANY PARROT FISH , various rays, sea turtles and lots more. Honestly, it's teaming with life and the visibility is fantastic. Ali and I love SCUBA diving, but it costs extra and the snorkeling was so good that we didn't even look into diving.
There are plenty of other things to do if you get bored with snorkeling. You can rent kayaks and stand up paddle boards. There are tours you can organise (at an extra cost), such as dolphin spotting tours. Of course, there's the swimming pool area with a swim up bar where you can chill out for the afternoon. In the evenings watch the sunset from the deck area at the main bar, or the Sundowner bar. 
If you want to get a bit more active there is a changing daily sports and activities program which is delivered to your room every evening. Activities include yoga, Pilates, badminton, beach volleyball and more.
There's a small gym on the island if you prefer a traditional work out.  If you get cold (apparently possible) after a long day of snorkeling or scuba, there is a sauna available for use which will warm you right up.
We were there for R&R though, so we didn't do much other than eat, chill, snorkel and enjoy the spa. 
Pampering at the Spa
When you arrive at ROBINSON Club Maldives you get a voucher for a 15 minute free taster treatment or you can use it as a discount against another treatment in the future. We used ours as a discount. After all, it was my birthday and what better way to celebrate than in the spa?
So, on my birthday myself and my boyfriend did the full moon ritual spa package, which worked out at around $420(USD) for two people. I know that might seem like a lot, but it was part of my birthday present and it was 100% worth it.
When we checked in and filled out the forms we were given a cold refreshing face cloth that had been infused with something FANTASTIC. I didn't want to take it off my face. We were also served the most delicious lemon water/juice I've ever tasted in my life. I should have asked them to bottle me up some to take home.
The full moon ritual included a foot treatment, a full body massage, a head and foot massage with hair oil, a body scrub and then finally a full moon bathing ritual. This was all carried out in a couples therapy room.
You're given disposable underwear, a surprisingly non-terrible kind. No papery thongs for this resort, they had a fairly decent black, tights-like pair of hot pants for you to use. I was pleasantly surprised. Definitely the best pair of disposable underwear I've ever seen in a spa!
You get to choose the kind of massage you'd like so I went for Balinese and Ali went for a very intense muscle relaxation one that sounded painful to me. Everything was pretty magical and I ended up drifting in and out of sleep a few times.
Before the bath ritual you have to shower off the scrub  in the outdoor shower, completely naked apart from the disposable underwear. I am totally used to this as I've had my fair share of naked spa experiences. But if you're not used to spas, this might feel a bit awkward for a second while the massage therapists are still hanging around.  
The bathing ritual is basically a GIANT bubble bath with water jets and oils.  Plus they serve you cocktails (or champagne, it's your choice) and a fresh tropical fruit platter full of things like dragon fruit and pineapple. I absolutely loved it. I was definitely not expecting such a bubble bonanza. You can stay in the bath for as long as you'd like.
When you're thoroughly relaxed, you can head back into the treatment room where you'll find your clothes neatly folded with a small pot of moisturiser for you to use if you feel like it. I THINK it was frangipani moisturiser as I love that smell and bought a tub of it last time I was in the Maldives.
My massage therapist also clearly had some magical powers when it comes to hair because she managed to twist my hair up on top of my hair and keep it there using just 2 bobby pins. And it stayed like that until I went snorkeling!
After our treatment was finished we were given some more lovely lemon juice and a small gift each (a tub of coconut moisturiser and a packet of body scrub). What a way to celebrate my birthday! I essentially floated out of the spa on a cloud.
The Food Situation
I'm vegetarian so I'm always a bit harder to please than your average customer, but the food at Robinson Club Maldives blew me away. There's one main buffet restaurant where all the meals are served; breakfast, lunch and dinner. The buffet has changing themes every day from traditional Maldivian to Asian barbecue.
The quality of the food is SO good. A man called Ariful usually manned the omelette station at breakfast and he made the most light and tasty omelettes. There was always the most delicious dal available with various flavoured rice (spinach, pumpkin, red bean etc). I used to think I didn't like pumpkin, but one day they had pumpkin and carrot mash and it was PHENOMENAL.
There's a separate table full of desserts and usually an ice cream station too. The coconut ice cream is TO DIE FOR. There's always a healthy food area and plenty of options, so you can choose to be as good or as bad as you want food-wise.
Once a week there is a Gala dinner night with a dress code (not strict) and a set menu. We completely forgot about this and just showed up expecting the buffet. However, the staff had us seated and flying into our first course in no time.
They catered to my vegetarian needs incredibly well and the food was delicious. I think there were about 5 courses and then a dessert buffet as usual. Then there was a performance in the bar which we didn't stay for, but it's nice that there are evening entertainment options.
Another night there was an Asian BBQ in the A La Carte restaurant instead of the regular buffet. Again, I was worried because BBQ isn't normally veggie friendly. But I need not have worried. There were tofu options, amazing veggie Asian noodles, stir fries and more. 
You can reserve a table at the A La Carte restaurant any night during your stay. This costs extra but is nice for special occasion as it's more intimate. In room dining is also an option for an extra charge. We ended not doing either of these because the buffet was so good and never seemed crowded.
When it comes to drinks plenty are included in the all inclusive package. In the bar the front part of the menu cost extra and the back part was all included.
Lots of cocktail options were included such as daiquiris, pina coladas and mules etc. Not to mention plenty of spirits, wines and beers were also included as well as soft drinks and coffees. At meals water is placed on the tables and drinks orders are taken. 
At breakfast there are fresh juices, smoothies, flavoured waters and hot drinks available at the buffet. At lunch and dinner they have a jug of iced coffee (my life line) next to the ice cream. So obviously I took it upon myself to create a sort of affogato.
You certainly could get great value for money with regards to drinks. We didn't drink much alcohol, but if you propped up the bar between meals you'd definitely be getting your money's worth and the cocktails are very tasty.
So there you have it, WAY too much info about my fabulous trip to the Maldives. Having visited the Maldives before I truly believe that ROBINSON Club Maldives is the best place to stay in the Maldives if you're looking for a premium secluded, island paradise.
You  can read more about ROBINSON Club Maldives and their other resorts >HERE.
---
DISCLAIMER
**My stay at this resort was free of charge (though we did pay for extras such as the spa). However, all opinions are, as always, my own. **
---
MORE POSTS ABOUT THE MALDIVES
---
PIN ME